| | |
| --- | --- |
| | This is a Pokémon branded website that dynamically visualizes the situation of the Pokémon characters that are traded all over the world via the Nintendo DS Wi-Fi function, in the form of the daily Pokémon trade journal. |
| | |
| --- | --- |
| GTS (Global Trade Station) is a facility for trading Pokémon characters appearing in Nintendo DS Pokémon games. You may think Pokémon is something for children, but GTS actually has more than 1 million users from 100 countries trading Pokémon characters, therefore literally being a cutting-edge communication platform. | On the Pokémon GTS website, you can view Pokémon information stored from all over the world and the trading situation between users. |

The GTS Journal was developed aiming at promoting Pokémon character trading on GTS in a more attractive and dynamic manner. Digests of more than 490 characters traded worldwide are introduced in the form of a Pokémon trading journal featuring one Pokémon each day in 10 languages. This aims at further encouraging Pokémon trading among users and enhancing their loyalty, as well as letting children°«s parents and young people who have graduated from Pokémon re-evaluate it as global content.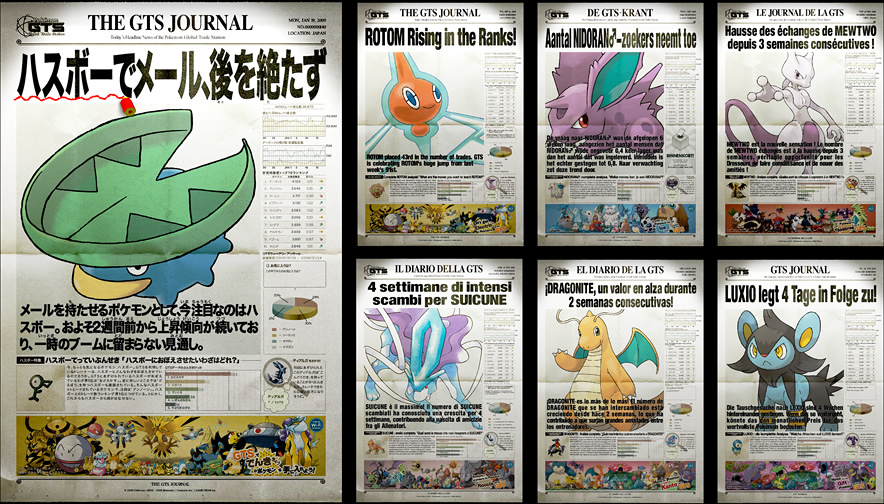 A Journal interface using the game data is automatically created every day in 10 languages

The GTS Journal is automatically created based on logs obtained every day from the game server managing the Wi-Fi Pokémon trading data. In this system, first °»the previous day°«s news value°… of each Pokémon is ranked based on a unique analysis index to select the one drawing the most attention at the time, and the journal is made after related detailed data is then added. Not only are all changes and topics that actually happened in GTS reflected in the next day°«s journal, but the accumulated archives will also show longer-term trends as well. There is also the perspective of connecting the Pokémon games played by children with actual society by, for example, making some sort of event actually happen responding to the trading of a certain Pokémon character and covering it in the journal.
| | | | |
| --- | --- | --- | --- |
| | | | |
| You can read the previous journals using the calendar-like archive. | You can learn tendencies by country through the weekly questionnaire. | Highlight articles that you are interested in with a colored pen. | Find this Pokémon stocked in GTS! |